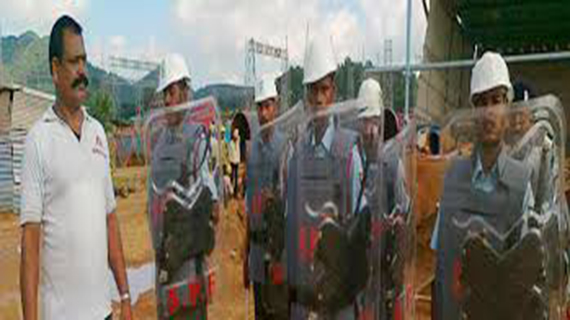 SHIVA PROTECTION FORCE(P)LTD Ranchi,Jharkhand (India) is the pioneers in providing comprehensive professional/VIP/Executive protection, Industrial security ,Corporate Security , Mall Security & Management , Multiplex Security , Hotel Security , All types of Event security , Residential Colonies , Township Security & all Allied Problem Solution in the country ."SHIVA" provides the optional hassle free environment for client that need to focus on their business. Over the last 3 year we have created a riche in market by offering lowest , truly compressive range of security Services . It is the company's mission to exceed our customer's exception which is reliable, responsive level of Professional Private Security Services .Services is our most valued quality. "SHIVA" entire administration and supervisory staff has earned the reputation of striving for total Customer Satisfaction and the establishment of strong partnership with clientele to achieve mutual goals.
Our local administration and supervisory team is active on an ongoing basis at contract sites developing security solution tailored to the individual needs and demands of our customers. Quality in and every day goal for our company which is demonstrated by the immediate and personal accessibility of the company's managers, as well as their high standards of conduct for their employees. Our core practices address key elements of comprehensive security management of a corporate, ranging from protecting V.I.P / Executives, to surveying and assessing risk in the corporate new locations. Our operations are supported by round o'clock or 24/7 operations, a mational administrative team and hands- on executive protection agents, which enable us at "SHIVA" to be always at the ready, and our customers known they can trust "SHIVA" services. In "SHIVA" we recognize that our personnel are clearly our greatest asset. As veterans of the "SHIVA" personal have more & strong background of Indian Military Services / Para Military Forces, Governmental Security Services and Counter Terror Qualification. "SHIVA'S" personal have well versed / Intelligence Knowledge and technically sound.
"SHIVA'S" Academy presents basis Security & Intelligence Training course , Seminars, Security Management , Technical Training , First Aid, Fire Fitting , Terrorism Awareness, Dogs Handing Skills , Self Defence and Defence and operating Metal Detector and CCTV etc.
"SHIVA" has brought its cover – "Total Solution of Security"and also we deal in House Keeping, labour contacts, Out sourcing, Ware House Management. Transportation & Construction: a range that is dynamic and extensive at the same time. The Company also shares its expertise and experience in form of professional admonition. "SHIVA" committed to achieve total satisfaction by providing services based on effective "Quality Management System" (Q.M.S).
An existing client strength of over 61 sites in Corporate House and other Institutions at various place in Bihar, Jharkhand and Uttar Pardesh. Kindly accept our heartiest congratulation on taking a right decision towards you by intending to partner with us. Kindly invest your most valuable time & feedback to us with total confidence. Our Marketing Department revert back to you very shortly.